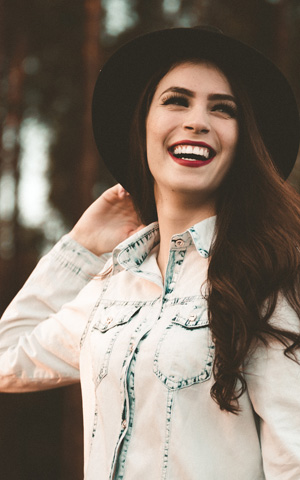 With porcelain crowns and bridges, your smile will be stronger and healthier than ever. Not only can a dental crown or a dental bridge improve your oral health, it can also restore worn or damaged teeth.
Whether your priority is the well-being of your teeth or having a fantastic smile at your next important meeting, crowns and bridges can be the solution!
Click Now for Your FREE Porcelain Crowns & Bridges Consultation
What Are Dental Crowns?
Dental crowns, also called tooth crowns or tooth caps, are a cosmetic and restorative dentistry device made to protect your natural teeth. If you've suffered from an infection or severe cavity, covering that cavity under crowns will keep the area clean and stop any future infections or pain.
Similarly, when your natural tooth has been worn down, broken, or chipped, a dental crown can rebuild that tooth. Even a tooth that has been damaged or infected for a long time can be brought back to its beautiful natural look with a tooth crown.
Our dental crown procedure is straightforward. Once your dentist has decided that a tooth crown is a good option for you, the tooth about to receive the crown will be prepared. Depending on your needs, this preparation might involve gently reshaping the outer layer of the natural tooth for a better crown fit, or simply cleaning the natural tooth.
The porcelain crowns we offer will then be fitted tightly over your natural tooth or teeth. This tight fit fully protects the tooth from any further damage and keeps bacteria out.
We also match our porcelain crowns to your natural teeth color, so your dental crown will look just like your natural teeth!
Click Now for Your FREE Porcelain Crowns & Bridges Consultation
Who Needs a Dental Crown?
Crowns may be prescribed for all kinds of reasons, but some reasons are particularly common. The following conditions are often best solved with a dental crown:
After a root canal, crowns seal the affected tooth and keep it sanitized and safe from further infection.
A dental cap can hold a cracked tooth together and keep the crack from worsening.
A broken or worn-down tooth can be restored back to working order with a dental crown.
What Are Dental Bridges?
A dental bridge is similar to a dental crown, but this tooth bridge can restore and replace multiple teeth at once. Rather than covering one tooth, or multiple teeth one at a time, a dental bridge can cover multiple worn, missing, or damaged teeth in a row with a single device.
Multiple missing teeth can detract from your smile, but a dental bridge has the power to fill those gaps and restore your smile. Our porcelain bridges are flexible—with a dental bridge, front teeth as well as back teeth can look as good as new again!
We keep our dental bridge procedure as simple as possible. Depending on your teeth, your dentist might need to reshape the teeth that your dental bridge will cover. Your dentist will then take a mold of the teeth and create your personalized dental bridge. When your dentist places the completed bridge, they will either be cemented in place or—if you're receiving an implant bridge—your porcelain bridge will be secured on an implant.
Who Needs a Dental Bridge?
If you are missing multiple teeth, especially if those teeth are all located near each other, a dental bridge may be the easiest and most effective way to repair your smile. By using a bridge for missing tooth or teeth, you'll have a bright smile again soon.
If you are missing teeth and are curious about the benefits of veneers vs dentures, talk to your dentist at Infinity Dental Associates! We will be able to help you make the right decision for your health.
Our Porcelain Crowns and Bridges Will Restore Your Teeth and Beautify Your Smile
If you have damaged or missing teeth, contact us at Infinity Dental Associates today! We can make your smile radiant again.
Click Now for Your FREE Porcelain Crowns & Bridges Consultation