Infinity Dental Associates
Dr. Gina Marcus
Office: (305) 998-2970
Office Hours:
Monday: 9:00 am – 5:00 pm
Tuesday: 9:00 am – 5:00 pm
Wednesday: 9:00 am – 5:00 pm
Thursday: 9:00 am – 5:00 pm
Friday: 9:00 am – 3:00 pm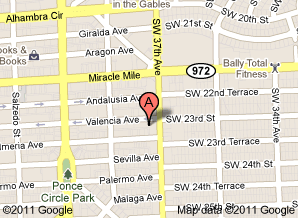 2600 S Douglas Road #906
Coral Gables, FL 33134
Latitude: 25.747766, Longitude: -80.254951
Email Us at:
info@infinityda.com
For Emergencies, please send email to:
Dr. Gina Marcus:
drmarcus@infinityda.com
Dr. Marcus is available 24 hours via email. Please write a detailed message with your name, phone number, and a brief description of the emergency. If it is a life threatening emergency, call 911 immediately. Please also call the office at (305) 998-2970 to record a brief message, including your name and phone number.
Patient Forms
For your convenience, we have posted our patient forms online.
You can print and complete these forms at home and bring them with you to your first appointment. If you have any problems getting these files to print properly, please call our office at (305)998-2970 and we will gladly mail or fax them to you.
Click the file (PDF) to fill or print an online form. If you need help, please let us know.