What Is BOTOX® Cosmetic?
BOTOX® Cosmetic is a prescription medicine that is injected into muscles and used to improve the look of moderate-to-severe frown lines between the brows, crow's feet, worry lines and laugh lines. BOTOX® Cosmetic is administered by Dr. Merheb as a simple, nonsurgical treatment that is injected directly into the muscles between the brows. It works by blocking nerve impulses to the injected muscles. This reduces muscle activity that causes moderate to severe lines.
Click Now for Your FREE Botox Consultation
Facts about BOTOX® Cosmetic:
BOTOX® Cosmetic, introduced in 2002, is the first botulinum toxin to be approved by the FDA to temporarily treat moderate to severe glabellar lines between the brows. With real, noticeable results, no surgery and no recovery time, there are many reasons why BOTOX® Cosmetic has been chosen by millions of women and their doctors.
When will I see results from a BOTOX® Cosmetic treatment?
Within days, you may see a marked improvement in the moderate-to-severe frown lines between your brows. Lines continue to improve for up to 30 days, and results can last for up to 4 months. Individual results may vary.

Is there a substitute for BOTOX® Cosmetic?
BOTOX® Cosmetic is a biologic product that cannot be interchanged – or substituted – for another product. In fact, the FDA has stated BOTOX® Cosmetic is "non-interchangeable," which means that its safety and effectiveness cannot be claimed by any other product. The potency – or strength – of BOTOX® Cosmetic is measured in scientifically defined units, and the FDA has concluded that a unit of BOTOX® Cosmetic does not equal a unit of any other product.
People who are prescribed a biologic product have a right to know exactly what they are receiving. Be sure to ask which product you are being prescribed and why.
Click Now for Your FREE Botox Consultation
Will my face look overdone or unnatural?
BOTOX® Cosmetic is a technique-sensitive treatment. You can trust BOTOX® Cosmetic to deliver subtle results when you are treated by someone who is licensed, trained, and a medical expert in facial anatomy. So you'll look like yourself—only with less noticeable lines. No one should be able to tell you've had anything done.
Compare the before and after pictures of real patients in our gallery, and see the difference for yourself.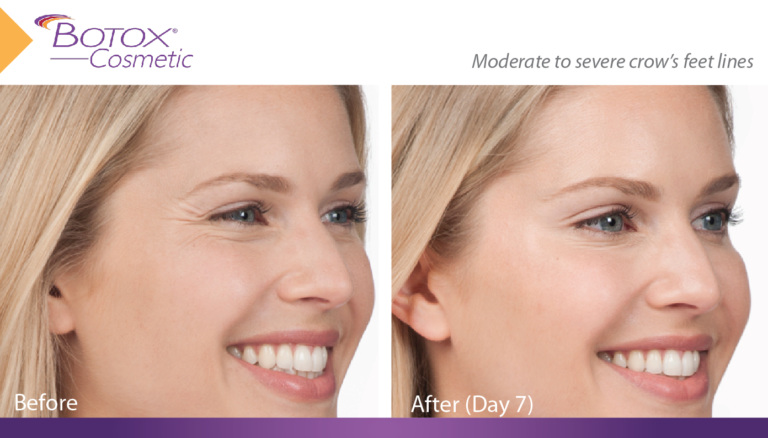 Will I still be able to make facial expressions?
When administered by an experienced physician, you can smile, frown and look surprised without the wrinkling. Although the results are visible, a treatment with BOTOX® Cosmetic will not radically change your facial appearance or make you look as if you've "had work done."
Post-Treatment Information
You can return to normal activity immediately following your BOTOX® injection. Slight swelling may occur but should cease within a few hours. For 4 hours following injection, you need to keep your head and neck upright. No strenuous exercise for 24 hours. Rarely, you may notice some slight bruising for a couple of days and it will gradually disappear. You may cover the area with makeup.