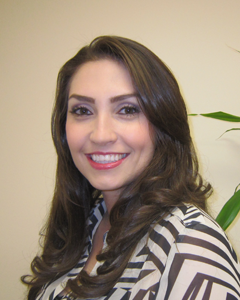 Andrea Gutierrez is originally from Medellin, Colombia and came to Miami, Florida in 1999. During high school she became interested in the dental field and attended a dental aide program. After completing the dental aide program her high academic standing allowed her to gain advanced placement to the dental assisting program at Robert Morgan Educational Center. She graduated in 2004 as a Certified Dental Assistant.
After working as a Certified Dental Assistant for two years with Dr. Marcus, she decided to advance in her profession and become a Dental Hygienist. She graduated Miami Dade College with an Associate in Science in Dental Hygiene.
As a Registered Dental Hygienist, Andrea is committed to promoting and maintaining the oral health and wellness of her patients. She strives to provide preventive, educational and therapeutic services while helping her patients achieve their oral health goals.
Andrea is Vizilite Certified to provide patients with the most comprehensive Oral Cancer Screening, is highly skilled in Arestin placement, a locally administered antibiotic used in the treatment of Periodontal (gum) disease, and is certified to administer local anesthesia to help with patient comfort during treatment.
Andrea remains current with continuing education, technological and clinical advancements within her field. She is fluent in Spanish and English.
Our office isn't really "work" because the atmosphere is unique in that it is relaxed and friendly but professional with all state-of-the-art equipment to help make patient treatment be painless and comfortable for everyone!