HRT is already credited with reducing hot flushes and reviving a flagging libido
Now researchers believe it boosts oral health when used to treat osteoporosis 
Cases of periodontitis were 44% lower in women who had estrogen therapy
It's already known to help cure hot flushes and boost sex drive.
But new research shows that women who undergo hormone replacement therapy (HRT) also have healthier teeth and gums.
As estrogen levels fall during menopause, women become more vulnerable to numerous health issues.
Around the same time, changes in oral health also are common and can lead to the loss of teeth.
But boosting levels of the hormone could have a direct benefit for those who fear the dentist's chair, scientists claim.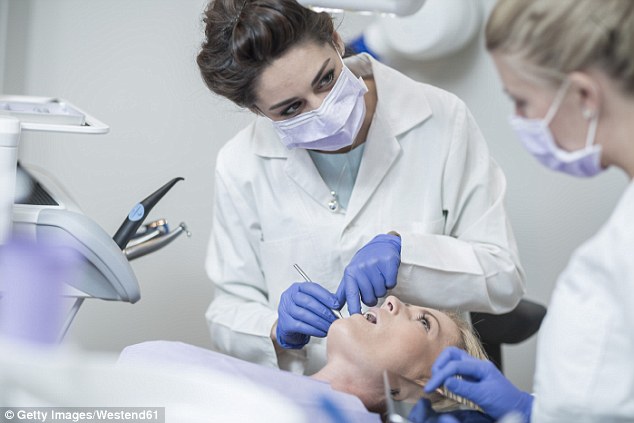 Added benefit: When used to treat osteoporosis, HRT seemed to improve jaw bone density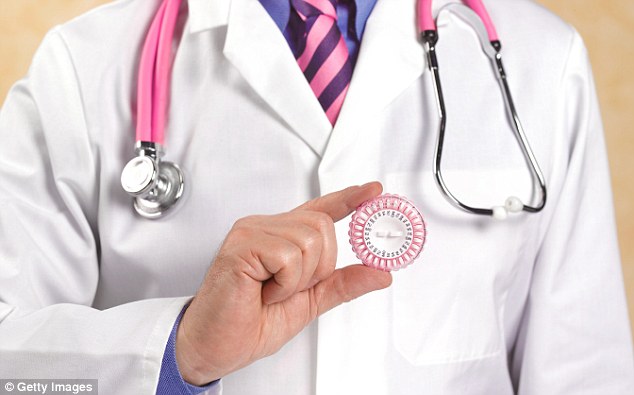 Cancer danger? Last summer, scientists at the Institute of Cancer Research said the risks of taking HRT pills have been underestimated for years – and are actually 60 per cent higher
Researchers analyzed 492 women aged between 50 and 87 for the study published in the journal Menopause.
Some 113 of them underwent osteoporosis treatment – drugs that have a similar effect on the bone as estrogen, while 379 did not.
They were assessed to see whether it could help increase the bone mineral density in their jaws and, subsequently, improve overall oral health.
The study found that the rate of occurrence of severe periodontitis was 44 per cent lower in the treatment group.
Treatment consisted of systemic estrogen alone or estrogen plus progestin, as well as calcium and vitamin D supplements, for a minimum of six months.
Dr JoAnn Pinkerton, executive of the North American Menopause Society, said: 'Osteoporosis can occur throughout the body, including the jaw, and lead to an increased risk of periodontal disease.
'This study demonstrates that estrogen therapy, which has proven to be effective in preventing bone loss, may also prevent the worsening of tooth and gum disease.
'All women, but especially those with low estrogen or on bisphosphonate treatment for osteoporosis, should make good dental care a part of their healthy lifestyles.'
An estimated one million British women currently take HRT to cope with the menopause, which commonly strikes in the late 40s and early 50s.
While figures suggest less than five per cent of women over age 40, who had already gone through menopause, use either estrogen alone or estrogen and progestin
The menopause can cause depression, hot flushes, headaches and night sweats. HRT tackles these symptoms by providing oestrogen as the body stops producing it.
But the numbers who take the drug have plummeted since the early 2000s, when two major studies raised concerns that it raised the risk of certain forms of cancer.
Read more: http://www.dailymail.co.uk/health/article-4248478/Women-undergo-HRT-better-dental-health.html
Follow us: @MailOnline on Twitter | DailyMail on Facebook